Fournisseurs
Optimisez la gestion de votre trésorerie grâce à une solution unique de paiement anticipé de vos factures!
A travers notre modèle collaboratif, vos clients rejoignent Digit89 afin de vous offrir un accès direct à du cash sur base de leur propre notoriété financière.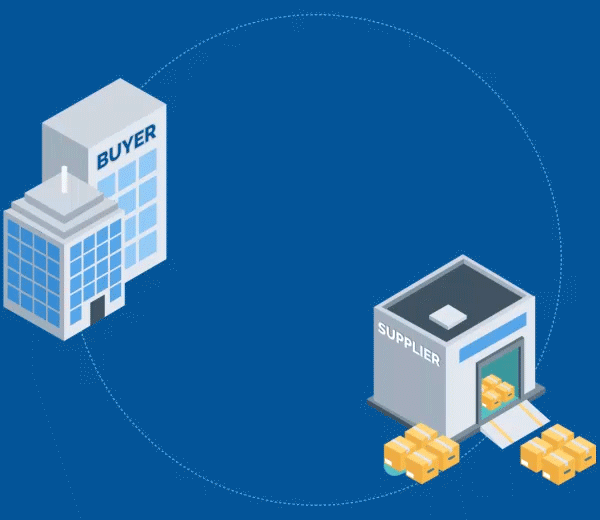 Votre argent en 3 clics!
Connectez-vous à la plateforme Digit89 gratuitement et sans engagement.

Retrouvez vos clients participants sur la plateforme, et accédez à vos factures de vente s'y rapportant.

Sélectionnez les factures de votre choix et confirmez votre panier.

Recevez le paiement de vos factures par Digit89 dans les 48 heures, en échange d'un petit escompte.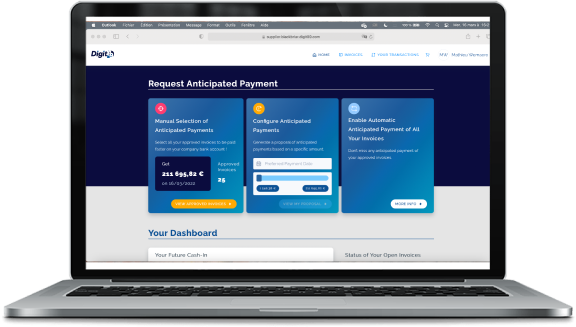 5 raisons de choisir Digit89
Sans engagement
L'accès à la plateforme est gratuit et sans frais fixes.
Rapide
Obtenez votre paiement dans les 48 heures, sans réserve de retenue et sans recours.
Accessible
Votre situation financière n'impacte pas votre éligibilité, ni votre taux.
Flexible
Sélectionnez uniquement les factures de votre choix, selon vos besoins.
Abordable
Parce que votre client a adhéré au programme, vous bénéficiez de taux avantageux sur vos paiements anticipés.
N'hésitez pas,
rejoignez-nous !
Q&A
Client
How much does it cost?
As client, you can endorse the program for free.
Thanks to our standard integration model, implementing Digit89 is very easy and without any impact on the current processes of the client. Moreover, Digit89 takes care of everything: onboarding of your suppliers, financing of anticipated payments, …
How does it improve your ESG scoring?
With Digit89, you support the economic sustainability of your suppliers by providing them with an easy access to cash. You participate in a real solidarity initiative.
Moreover, Digit89 enables you to provide real financial incentives to your suppliers for sustainable improvement.
How does it improve your working capital?
By providing your suppliers with a solution to get anticipated payments of their invoices, it enables you to maintain or extend your payments terms.
Supplier
How can I access the platform?
Platform access is completely free and without any commitment. Create your account to access your personalized dashboard and request early payment of your invoices.
Can I choose which invoices to finance?
Yes, with Digit89, you choose the invoices you want anticipated payment for, when needed.
How much does anticipated payment cost?
No fixed costs, Digit89 service fee is a small rate calculated on the invoice value.
Our pricing is based on the creditworthiness of your client and the financing period. Your size or your current financial situation doesn't impact the rate.