Leveranciers
Optimaliseer uw werkkapitaal en neem de controle over uw liquide middelen via een unieke oplossing voor vervroegde betalingen!
Uw klanten werken via ons collaboratief model samen met Digit89 en geven u vlot toegang tot cash op basis van hun financiële reputatie.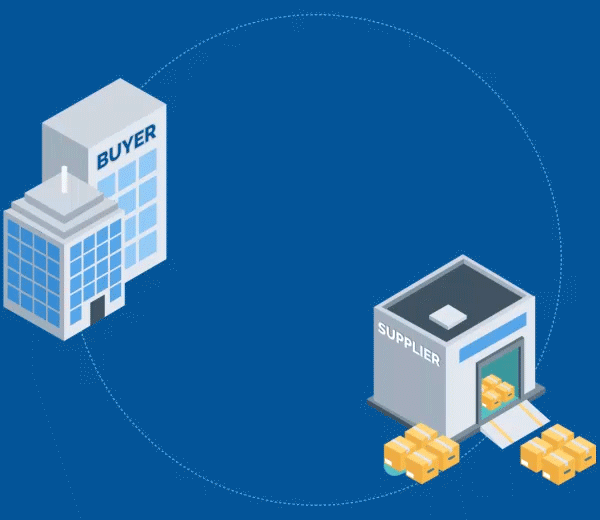 Krijg uw geld in 3 klikken
Registreer u gratis en vrijblijvend online op het platform.

Vind uw deelnemende klanten op het platform en visualiseer de overeenkomstige verkoopfacturen.

Selecteer de gewenste facturen en bevestig uw mandje.

Ontvang betaling van uw facturen via Digit89 binnen de 48 uur, in ruil voor een kleine korting.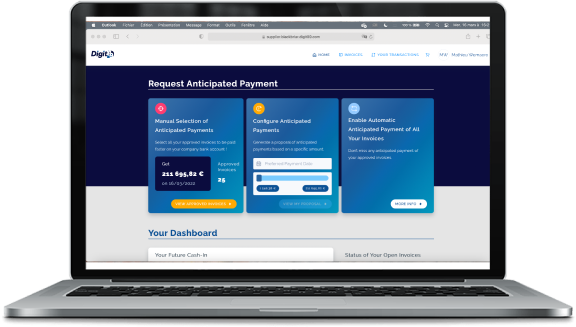 5 goede redenen om voor ons te kiezen
Geen verplichtingen
Gratis toegang tot het platform zonder opstartkosten.
Snel
U krijgt uw betaling binnen de 48 uur, zonder weerhouden reserve en zonder verhaal.
Toegang
Of u in aanmerking komt, hangt niet af van uw financiële situatie en dat heeft ook geen invloed op de kosten.
Flexibel
Selecteer alleen de facturen die u nodig hebt en wanneer dat nodig is.
Betaalbaar
Omdat uw klant het programma heeft onderschreven, krijgt u een lager tarief voor uw vervroegde betalingen.
Don't hesitate,
join us now !
Q&A
Client
How much does it cost?
As client, you can endorse the program for free.
Thanks to our standard integration model, implementing Digit89 is very easy and without any impact on the current processes of the client. Moreover, Digit89 takes care of everything: onboarding of your suppliers, financing of anticipated payments, …
How does it improve your ESG scoring?
With Digit89, you support the economic sustainability of your suppliers by providing them with an easy access to cash. You participate in a real solidarity initiative.
Moreover, Digit89 enables you to provide real financial incentives to your suppliers for sustainable improvement.
How does it improve your working capital?
By providing your suppliers with a solution to get anticipated payments of their invoices, it enables you to maintain or extend your payments terms.
Supplier
How can I access the platform?
Platform access is completely free and without any commitment. Create your account to access your personalized dashboard and request early payment of your invoices.
Can I choose which invoices to finance?
Yes, with Digit89, you choose the invoices you want anticipated payment for, when needed.
How much does anticipated payment cost?
No fixed costs, Digit89 service fee is a small rate calculated on the invoice value.
Our pricing is based on the creditworthiness of your client and the financing period. Your size or your current financial situation doesn't impact the rate.